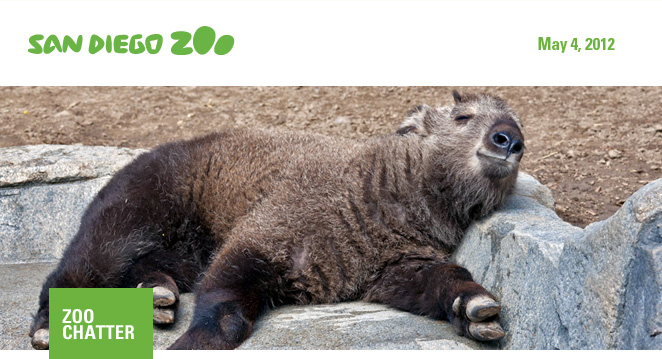 Upcoming Events

 

May 6

May 6

May 10-13

Discovery Days: Garden Festival at the Zoo

May 10-13

Trunk Shows at the Zoo: Talavera Pottery and Lucky Bamboo

May 13

Mother's Day Brunch at the Zoo

May 13

Mother's Day Brunch at the Park

May 18-20

Safari Park 40th Anniversary Celebration, Presented by Living Social

May 19-20

Debut of Ice Age 3 4D at the San Diego Zoo

June 2

Albert's First Vodka Dinner, featuring Grey Goose Vodka

 

Send to a Friend!

Do you know someone who would enjoy this newsletter?
Send Zoo Chatter to a Friend

 

Follow Us:

San Diego Zoo

 

San Diego Zoo Safari Park

 

 

Takin about Cute!

Have you been to Panda Trek lately? If not, you're missing out on two bundles of adorable: our three-month-old takin calves. They are from different mothers but born only a week apart, and there's nothing more fun than watching two takin calves play! They are feisty and strong, which goes right along with their names: the girl is named Mei Long, which means Beautiful Dragon, and the boy is named Bing Long, which means Ice Dragon. These are two dragons that you simply must see!

Oh Boy, Saticoy!

You watched the hatching live, and now you know our fuzzy bowling ball-sized condor chick is a male! Saticoy, whose name was chosen by the public and means "sheltered from the wind" in the Chumash language, is being followed by thousands of people on the Wildlife Conservancy's Condor Cam. His gender was determined via a small DNA sample. Saticoy is a lucky boy. His parents, father Sisquoc and mother Shatash, continue to care diligently for him, cleaning him, feeding him, and keeping him warm. Saticoy is more active now and can be seen by Condor Cam viewers playing with feathers, stones, or other items the adult condors leave in the nest. Check out the happy home!

Dig Into the Garden Festival!

Come see what's "growin' on" at the Zoo's Garden Festival, May 10 to 13! Dig into fun family activities and special tours and presentations, animal encounters and keeper talks, and meet some interesting and beneficial garden insects. Chat with garden experts, join in a scavenger hunt to win a prize, and follow the Zoo's culinary trail to discover herbs and fruits we use at Albert's Restaurant. The amazing Orchid House will be open to explore, and check the Interactive Insect Topiary at Poppy's Patio. Find out how our Zoo garden grows!

Celebrate 40 Wild Years with the Safari Park

Join us May 18 to 20 as we celebrate four decades of conservation and adventure at the Safari Park! Conservation Ambassador Joan Embery gets the celebration started at 9 a.m. on Friday, May 18 with an opening ceremony, and you can take a special Magical History Tour aboard the Africa Tram Safari. Then on Friday and during the weekend, check out our 14-foot historical wall depicting images of the Park from its earliest beginnings to the present, and bring a copy of your own Park photo to post there as well! You can also submit your photos online to our historical photo contest for a chance to win an amazing prize safari, or use your smart phone to join in a scavenger hunt for prizes. You can even get your very own Endangered Species Tiger Stamp with a unique Safari Park cancellation by the USPS! Check out the website to see all the many activities, take a trip down memory lane, and explore how the Safari Park became what it is today!

Love Lemurs? Explore Madagascar with us

If the travel bug has bitten and you're looking for a truly unusual wildlife adventure, travel with the Zoo's Worldwild Tours to Madagascar this fall. You'll visit nature reserves to see a profusion of lemurs and primates not found anywhere else on Earth, plus flying foxes, birds, and amazing reptiles.

"Mamma Mia" on Our May Wish List

We want to give out koala cuddles to many of our special Zoo critters, so check out the enrichment items for our tree kangaroos, giraffes, caracals, and koalas, as well as toys for Flynn and Lily, the red pandas at Panda Trek. Find out how you can help on our May Wish List!

Wild Gift Ideas for Mother's and Father's Day

This Mother's and Father's Day, we are offering two special adoption packages—red panda and orangutan—that start at $50 and include a personalized adoption certificate, animal plush, photo, and fact sheet. Our Adopt an Animal gifts are unique, fun, tax deductible, and include free shipping! Order by midnight on May 6, 2012 to ensure delivery by May 12, 2012 for Mom.
| | | |
| --- | --- | --- |
| Check it out! | Health Net Mobile | The Food for a Lifetime™ |
Checks In The Mail is proud to offer San Diego Zoo check designs featuring several of our most popular animals: Bear Bonanza, Kat Kraze, Zoo Babies, and Pandas. These lovable animal checks will help support the San Diego Zoo's global conservation efforts. Proceeds of each purchase help to protect the survival of animals in captivity and throughout the world.

Health Net is paving the way with Health Net Mobile. Our new, innovative smartphone application gives members quick access to plan, copay, and deductible information. Health Net is a proud supporting sponsor of the Zoo's 2011 Walk on the Wild Side event.

Health Net of California, Inc. is a subsidiary of Health Net, Inc. Health Net is a registered service mark of Health Net, Inc. All rights reserved.

Dick Van Patten's Natural Balance Pet Foods products are used and respected worldwide by top trainers, breeders and vets. We want to make available to you The Food For a Lifetime™ so that you know that your pet is getting the best food, no matter which type of Natural Balance® Pet Food you choose.

As a sponsor of the San Diego Zoo, we also provide hope for the survival of endangered animals. Sharing a common goal, we are committed to providing the best for all animals for the future.
[yuzo_related]