If you're having trouble viewing this email, you may
see it online
.
Share This: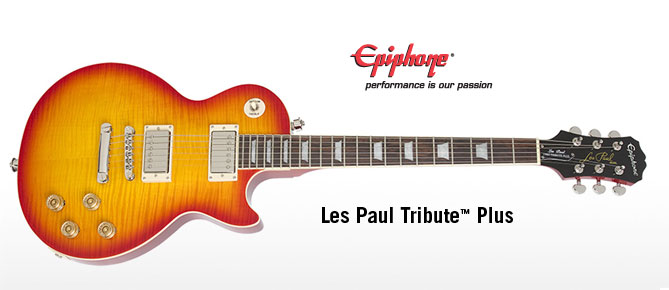 Classic Les Paul Sound and Style
Epiphone's long friendship with innovator Les Paul dates back to the late '30s and early '40s when Les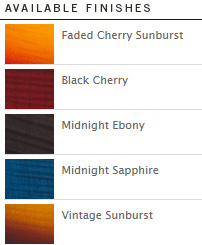 and fellow guitarists such as Charlie Christian and George Barnes were at the forefront of jazz guitar. Epi Stathopoulos and Les were good friends and Epi would let Les use the Epiphone factory on 14th Street in New York City at night after hours to experiment on guitar and pickup designs. This also was the era when Les, inspired by the stinging sustain heard in electric steel guitars, began dreaming of making a solidbody guitar. He built his first, the legendary "Log," at the Epi factory in 1941. Over the years, Les continued to work closely with Epiphone luthiers, reviewing new product ideas and offering suggestions. Now, the Epiphone Les Paul Tribute Plus honors our friendship with Les by combining his classic design features with legendary Epiphone quality and value with the added power of Gibson® USA '57 Classic humbuckers.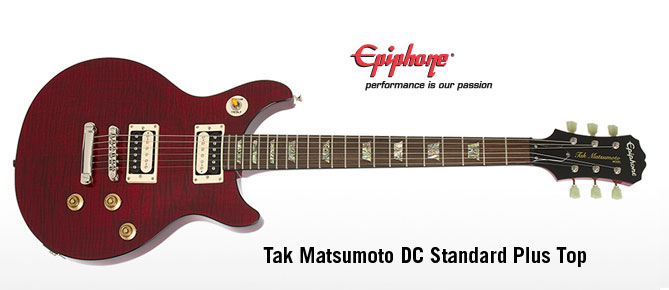 Classic Styling and the Sound of the Future
Epiphone announces the new Tak Matsumoto DC Standard Plus Top Cherry Outfit, a stunningly beautiful guitar designed by Epiphone and Tak Matsumoto exclusively for Japan. From his blistering solo work and his long-standing association with the band B'z to his GRAMMY winning album with Larry Carlton, Tak Matsumoto has proved himself not only one of Japan's true masters of the fingerboard, but one of the world's most powerful rockers. With a searing tone that is utterly infectious, Matsumoto has bridged the musical gap between East and West and showed us all that rock is truly a universal language. Now, Epiphone brings Tak's unique design and superior tone home with the one-of-a-kind Limited Edition Tak Matsumoto DC Standard Plus Top Cherry Outfit which embodies Tak's own asymmetrical take on the popular DC Standard Les Paul style with a carved Hard Maple cap with AAA Flame Maple Veneer and a stunning Cherry finish.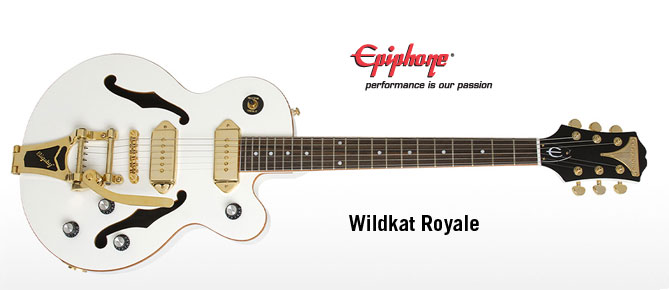 The

Epiphone Wildkat

Royale Goes Uptown!
The Epiphone Wildkat is true Epiphone original—an innovative design that merges solid body sustain with classic archtop profile of Epiphone's heritage, and all for a price that pros and pros at heart can afford. Now, the Wildkat strikes again with a Pearl White finish, gold sparkle binding, and gold hardware for a rockabilly machine unlike anything Epiphone has offered before.
Epiphone has been a leader in archtop design since the 1930s. And thanks to our founder Epi Stathopoulos's belief in constant innovation, Epiphone also was a pioneer in electric pickup design. For decades, designers have been riffing on our archtop models without offering anything new. Now it's our turn! With the Wildkat Royale, Epiphone takes a leap forward by combining the best of our own classic archtop designs with the sustain of the our solidbody guitars for a totally new instrument, the Wildkat Royale.


© 2012 Gibson Musical Instruments
309 Plus Park Blvd
Nashville, TN 37217